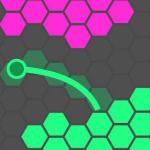 Superhex.io
Superhex.io is a cool multiplayer online IO game in which you have to conquer the hexagons on the map by drawing with your colored trail and connecting them back to your existing territory with Friv 10 games for school.
Your enemies are everywhere and they have the same goal of expanding the land as you. Watch out your enemies in any direction. If another player touches your lines, you will lose everything no matter how larger your territory is. Play games for free at http://friv10play.net/
Furthermore, stealing the shapes from them is acceptable. It's also a good way to build your land faster. Have a great time with Superhex.io. Check out other fun games such as Slither.io on Friv10play.net.
How to play: Use your mouse to control your character.
Rating: 4.3/5 (4 Total Ratings)
Free