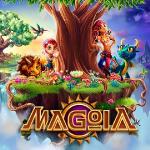 Magoia
Mogoia is a fabulous farming MMO game. You will be definitely amazed by its beautiful graphic, design as well as all the characters.Play it now at http://friv10play.net/
The people of Magoia need your help to brew potions, grows plants, raise wonderful dragons and defeat the dark. At the very beginning, you follow the instruction to complete all the missions with Friv games. Then, you can start to build and customize your own kingdom by yourself.
Let's see what is waiting for you in this amazing game? You can find out and experience by your own. If you're fond of this kind of genre, you can't ignore these following games for sure, please check out other action game as Combat Tournament on Friv10play.net . Have fun!
How to play: You play this game with your mouse.
Rating: 0/5 (0 Total Ratings)
Free