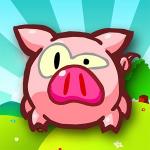 Pink Running Pig
The butcher bought a fat pig from a farm with a reasonable price. However, due to carelessness, he made this pig escape from the cage and run away. He immediately starts chasing to catch it. Pink Running Pig brings you to a beautiful farm in which you are in charge of a special life-saving the mission. In this great endless runner game at Friv for kids, you are on the weak side and your mission is to help this poor pig escape the butcher and his chopper. Its whole destiny and fate are in your hand.
Run, run and run as fast as possible and avoid all deadly obstacles with Friv 2018. The slaughter is going to be right behind the pig, so don't stop a second, otherwise, it will die. Besides, remember to collect coins along the way, especially the huge ones because you will get a large number of coins to buy upgrades. You not only have to jump over the traps on the ground but also avoid the flying knives. Here at http://friv10play.net/, the butcher will throw his knives whenever you climb in the high platforms. The yellow sign appears whenever the knife is coming.
At that time, you should land to avoid it or jump over it. The game also offers a lucky wheel for you to spin to accumulate score or get power-ups such as wings or a magnet with Friv 10 online games. One more thing you should keep in mind is that collecting all coins in the heart shape will boost your speed temporarily. Don't miss that great chance. Pink Running Pig is a perfect game to spend your time to play. You will love it. If you're looking for some other choices, try out these following options Running Fred Lite on Friv10play.net!
How to play: Use your mouse to play.
Rating: 5/5 (2 Total Ratings)
Free