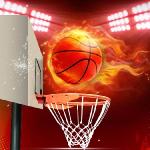 Street Ball Jam
Street Ball Jam is an extremely simple basketball game which is suitable for everyone on game Friv 10, especially those who want to test their aiming skills.
When taking part in the game, your only mission is to score as many points as possible by identifying the perfect angle and then throwing the ball into the basket. Every time you score a goal, you will get a diamond which is used to unlock new places and buy new balls. It's the fun sport game at http://friv10play.net/
Try to get the maximum score before time is over. Let's test your accuracy and become the best basketball player ever. Much fun and Don't hesitate anymore! Play more with Bunnylimpics Basketball on Friv10play.net .Have a great time! !
Directions: Simply use the mouse to play Street Ball Jam.
Rating: 3.3/5 (3 Total Ratings)
Free