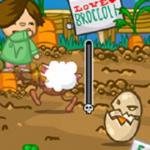 King Bacon vs Vegans
King Bacon vs Vegans is game has fun on friv 10 games. You home is attacked by vegans, the only way you can stop them is shoot all of them to death but remember to avoid chickens. They are approaching, don't hesitate, protect your village.
How to play King Bacon vs Vegans. On the computer use to play. On the smartphone, touch and rotate your device to play
. Interestingly, you can explore more with Cannons And Soldiers on friv10play now to enjoy many wonderful feelings in life.
Rating: 4/5 (1 Total Ratings)
Free