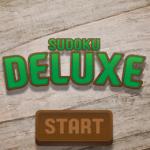 Sudoku Deluxe
Sudoku has been a popular game for most everyone; however, its updated version – Sudoku Deluxe will bring you newly interesting experience on Friv10play.net . There is always a familiar and simple mission that is to fully fill in all blank squares with numbers from 1 to 9 the quickest possible.
From the most trusted brand in Sudoku game, Friv Sudoku Deluxe is the new, premium Sudoku experience handcrafted for your iPad and iPhone or another your browser for free.
Of course, the numbers need to be put in correct ways basing on Sudoku rules. This new version offers players with prettier graphics, larger grids and, most importantly, more thrilling challenges.The note feature allow you to enter potential values to help you while solving the puzzle game with 10 friv games .
Believe me! It's a great idea to not only challenge your intelligence but also entertain yourself. Why don't you start to conquer puzzle right now with Friv10 games?
Game Controls : Mouse
See more similar games : Sudoku Puzzle . Enjoy the challenge and have fun!
Rating: 4/5 (4 Total Ratings)
Free