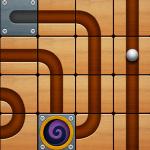 Roll The Ball Online
Roll The Ball Online: This is a fun game for all ages at Friv 10 club. Move the blocks. Match all the pipes. Let's the ball run through. Are you good at the puzzle game? Then, jump into Roll The Ball Online and solve it. Have fun with your friends and rate it!
Roll The Ball Online is a simple addictive unblock puzzle game Friv 10. And it must be on your must-try game list for sure. Why? Because it's simple but insanely interesting, attractive. Your mission is to move the blocks and connect all the pipes together in order to let the ball run to the goal. Is that easy enough for you?
However, it's going to be harder and harder. Challenge yourself with more than 24 levels in a short of time. Let's exercise your brain! Have fun! Check out other related games including Labyrinth and Sokoban on Friv10play.net!
How to play: Move all the blocks by using your mouse.
Rating: 3.8/5 (5 Total Ratings)
Free