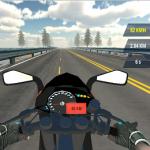 Bike Ride
You are a racer and you are finding an attractive racing game to show off your skills? No doubt! Bike Ride has created for you at free Friv 10 Games!
In this game, a single mission for you is to control your motorcycle carefully, overcome all challenges and avoid being destroyed by other vehicles on the way with Friv 10 school. Try your best to run as far as possible and get more gold coins in the game. To start this game, you can choose 1 in 3 types of areas such as desert, jungle and snow.
However, you should remember that each kind of terrain will have different difficulties on the way. Don't hesitate anymore with the similar game as Madalin Stunt Cars 2 on Friv10play.net ! Click here!
Controls:
Use arrow keys or WASD to move, go left or go right.
Rating: 3.8/5 (8 Total Ratings)
Free