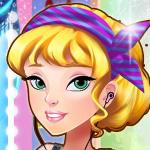 Perfect Makeover Princess Aurora
Perfect Makeover Princess Aurora is a girl game online of 2018 at Friv 10 games online. Aurora is really sad because of acnes. Let's help her have a proper treatment, then put the perfect makeup on her face in Perfect Makeover Princess Aurora!
Recently, Aurora has a problem with her skin with Friv free games. She has a lot of pimples. She is really sad. So she decides to have a little makeover. First of all, you have to help her check her face, apply mask and acne medication, then choose the best make up for her from mascara, lipstick, brush, eyelashes and so on. Beautiful makeup will brighten up her day. Try it now at http://friv10play.net/
How about the game ? You can play the game in your browser directly. Finally, do not forget to choose for her fashionable outfits. You can play more interesting girl games such as Princess Outfits Test at Friv10play.net! Have a great time!
How to play: Using your mouse to play Perfect Makeover Princess Aurora.
Rating: 5/5 (1 Total Ratings)
Free