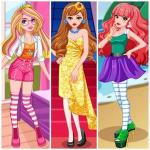 Princess Outfits Test
Princess Outfits Test game: This is a fun game for girls at Friv 10 free games. Four princesses are bored of what they are dressed right now. Let's become their stylist and choose the most suitable outfit for them in Princess Outfits Test. Much fun with friends!
Welcome to the another amazing girl game, Princess Outfits Test wih Friv free games. Four famous princesses from Disney are Elsa, Snow White, Rapunzel and Jasmine get bored of their regular outfits. They make a decision to swap their wardrobe for each other. Are you confident to become their stylish and make sure to choose for each of them the best outfit? Let's try your best and make them happy. Try it now and rate it at http://friv10play.net/
You can choose from gorgeous dresses, beautiful accessories to fashionable handbags. If you're looking for more games like this, please check out Disney Crossdress Wedding on Friv10play.net. Have a great time!
How to play ?
Play Princess Outfits Test by using your mouse.
Rating: 4/5 (7 Total Ratings)
Free