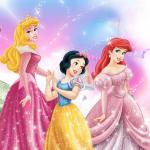 Disney Princess Dress Store
Elsa wants to do something else, besides being the queen of Arendelle. She decided to run a luxurious dress store named Disney Princess Dress Store, specializing in selling the most fashionable clothes and accessories for princesses. Products in the store are always updated regularly. There is a party in the kingdom tonight. Every princess is excited and waiting for this event so bad. Some Disney princesses at Friv 10 games for girls talked to each other and decided to have a date at Elsa's boutique.
They don't know what to wear, so they ask Elsa for help. And you, your mission is to help Elsa pick the best outfit for each princess in this adorable Friv games. There are many gorgeous dresses here. Each princess has their own style and sense of fashion. So you don't need to be worried. Just need to follow their request to pick the greatest one. When princesses have chosen the right outfit which fits them the best, it's time to move to the next stage. Some tiny sparkling things such as earrings, necklaces, and so on play an important role in making girls shining. You must remember that princesses don't go out without a crown, especially in the special events. Find other girl games of 2018 at http://friv10play.net/girls
Luckily, Elsa's boutique also provides a collection of the crown so you just need to have a look at their outfit and pick the sparkling crown that suits them the best. Your job is done here. Our beautiful princesses are ready to join the party tonight. Don't forget to visit Friv 2018 to explore more games such as Princesses Swimwear Fashion on Friv10play.net!
Controls: Use your mouse to play.
Rating: 1.5/5 (2 Total Ratings)
Free