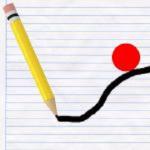 Physics Drop
Physics Drop is a fun physics-based puzzle game at friv 10 games, draw as many lines or polygons as needed to gradually make the red ball fall into the U. Your objective is simple but challenging: drop the little ball into the U-shaped object. To do that, you have to draw an unlimited amount of lines to use as platforms or to hit the ball. Keep in mind, those are physics-based lines, so they will not magically float in the air. Try to keep completing all harder-getting levels to unlock new ones.
This educational game features 18 physics problems to solve. If you get stuck, click on the restart button.
Physics Drop is a fun way of practising physics. Have fun!
Controls: Mouse
Interestingly, you can explore and enjoy many wonderful feelings with Make 7 online on friv10play .
Rating: 4.4/5 (9 Total Ratings)
Free