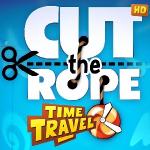 Cut the rope: Time travel
Cut the Rope: Time Travel - Another brand new and addictive version of Cut the Rope is created and ready for you to explore on friv 10 games for school .
In this special adventure, you are going to join with Om Nom in the time machine which takes you through the ages so that he can bring candies to his forefathers. The technique is simply unchanged; it's to use the mouse to cut the rope during time travel. Play now at http://friv10play.net/
The challenging adventure comprises candy crunching and physics-based action, so you are recommended to be careful and active. Have you felt excited about this adventure yet? Go ahead and have fun! Don't miss the chance to explore more with Cut The Rope and Cut The Rope 2 on Friv10play.net
Game Controls: Use the mouse to play the game.
Rating: 5/5 (2 Total Ratings)
Free