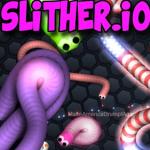 Slither.io
Slither.io: I bet that some of the players are too familiar with the classic game, Snake game. Keep the attractive points and continue to improve the deficiency on that famous game, a final product has launched and is now available at Friv 10 club
This impression that cannot fail to mention in the game is its image design. So eye-catching, so colorful. It creates an attractive game space. Players at Friv 10 school will not only wallow the lively, catchy game's music with a quality playground that can fulfill even the most fastidious gamers.
In this game, after naming your snake, you will be given a random one with a random length. You can read the specific figures showing in the below of the game. Those are as diverse as the snake's length, the rank, etc. One map is shown in the game in order to help you easily find ways to get food.
Although this area is an immense food source, it's full of risk. Many and many other snakes are hungry for food. Observe and avoid approaching them. You can be destroyed with a simple touch no matter how large their size is.Find all IO games at http://friv10play.net/io
Tips, tricks, and hacks in Slither.io
Chasing the moving lights which also are your food source to help you gain more length.
Two main obstacles in the game are other snakes and your own tail. The more food you ate, the more length you reached. That's the good news, however, moving in that shape is not easy at all. Thus, win or losing is depended much on your mouse skills. Let's conquer this game with the best effort at http://friv10play.net/
More information
Looking for more excellent games, go to our website at Friv10play.net and try the similar game as Wormax.io, the hottest games on site Friv 10 Online today.
How to play
Use the mouse to control your character.
Rating: 5/5 (1 Total Ratings)
Free