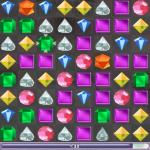 Crystical Express
Crystical Express game, this is a Puzzle game on Friv10play.net . You can play Crystical Express in your browser for free with your friends. Have fun with Friv 10 Online !
Calling all Crystical fans: pit yourself against the computer in this new match-3 update. Play Crystical Express game on iPad, Android, iOS, and Kindle.
Some games also are every popular on http://friv10play.net/ such as Candy Crush Online . Why don't you try to play? Enjoy!
Game Control : Mouse
Rating: 4.4/5 (5 Total Ratings)
Free