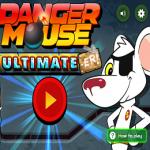 Danger Mouse Ultimate
Danger Mouse Ultimate is an interesting adventure of a cute mouse that wants to find the exit in each level. Therefore, your biggest mission is to guide the mouse wisely, jump continuously through dangerous obstacles and collect tons of gold coins on the way. However, you should remember that there are many challenges such as deadly traps, monsters, and iron cages on the way. Besides, you also will have the chance to receive bonus time that will help you bring on many kinds of fruits and points in the game. Hurry up! Check it out at friv 10 games for school !
Controls:
Use arrow keys to guide your mouse in the game or play on your mobile phone or tablet.
Rating: 1/5 (1 Total Ratings)
Free