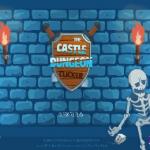 The Castle Dungeon
The Castle Dungeon is an extremely interesting single-player shooting game which is set in an ancient time when a cruel wizard and his gruesome servants took control of the world on Friv10play.net . Uncover all those grisly secrets in the wizard's castle, defeat every single monster by instantly shooting at them and save the princess.
Earn as many coins as possible and with those earned coins, you can hire people to wipe out your enemy. Be brave, become a real hero and save the world! Enjoy playing The Castle Dungeon! If you like playing The Castle Dungeon, you may also like hot Friv 10 games .
Controls: Use the mouse to shoot at your enemy.
Top Friv10 Online games :
- Spinz IO
Rating: 5/5 (1 Total Ratings)
Free