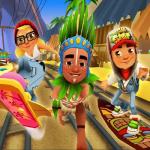 Bus Subway Runner
The boy in the game Bus Subway Runner at Friv 10 club needs to run away from the police and the players will help him. On the run, you need to subtly avoid obstacles and collect gold coins. Don't forget the flexible use of scroll keys to prevent crashes on buses and subways.
The game ends if you hit them. The gold you collect is the same score you have. Be ready for the challenges ahead. Friv 10 online help you to play games with high load speed and have moments of relaxation. The Bus Subway Runner game has attracted players of varying ages and interests. Not only do you enjoy this game but also want to discover new levels of the game.
Friv 2018 games have a collection of the latest running games are always updated on the site for you to discover such as Running Fred Lite on Friv10play.net. Help the naughty kid escapes or he will have severe lessons from the police due to his actions. You can start the game with basic moving instructions and some tips on playing this game.
Do not forget to invite friends to follow Friv 2018 for more interesting games and have other challenges for your long journey. Keep your relax moments.
Controls: Use arrow keys to move, jump and avoid obstacles. Ready for the new challenges of each level!
Rating: 4.4/5 (15 Total Ratings)
Free