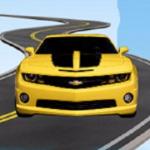 Road Racer
Road Racer is a type html 5 mobile run game on friv10 online . You got a new sports car that is a dream to drive. You control the car that must avoid opponent's vehicles.
Your aim is to overtake other cars as long as possible. Tap the button or arrow to control the sports car. Each crash cost you a life. Road Racer is an amazing car racing friv 10 games. Have a try!
* 8bit Game Play
* Simple and engaging game play.
* No complex levels.
* Clean interface.
* Swipe control.
* Awesome sound effects.
Don't miss the chance to explore more with Swing Online at friv10play
Rating: 3.3/5 (6 Total Ratings)
Free