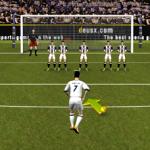 Juve vs Real
Hey you! Are you a fan of any club? You predict Juve vs Real that will win the championship in this tournament? Vote and share with your friends right now! Have fun at Friv 2017 !
Info of match :
The tournament will be held at the Millennium Stadium in Cardiff, Wales with a capacity of 74,500 seats on June 4, 2017. The 2017 UEFA Champions League Final will be the first finals to be played under the closed roof. Juventus heading for the Champions League / C1 third time and Real is the most championship team with 11 times defending champion.
Controls: Mouse
Have fun with Juve vs Real game and don't forget try other sports games on Friv 10 games 2017 !

Rating: 4.8/5 (5 Total Ratings)
Free