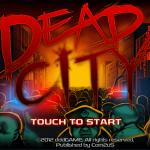 Dead City
Dead City is an extremely thrilling single-player survival mode game in which you act as a Commander in Chief – the last survivor – who takes on endless hordes of blood-thirsty zombies trying to gobble you down on Friv 10 games for school.
All you have to do is to shoot at the crawling dead coming from every corner and pick up items that can be used later. Additionally, the game features scary music and surprising rag-doll effect on death that make zombie shooting the most exciting experience ever. Play the game for free at http://friv10play.net/
Go ahead, take up the challenge and be a real hero. Good luck! Don't hesitate anymore! Play more with Boat Rush at Friv10play.net . Have a great time!
Game Controls: Touch the screen to play the game and put a stop to the zombie apocalypse.
Rating: 5/5 (1 Total Ratings)
Free