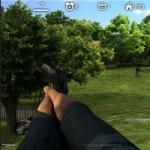 Dead Zed 2
Are you a professional gunner? Do you dare to join Dead Zed 2 – an amazing shooting game for everyone at friv 10 games? This is really a difficult task for you because this game requires you to have many skills such as fast response, problem-solving skills and ability to observe everything in the battle.
If you are confident enough, ready to fight with waves of dangerous zombies in this exciting action game at friv games right away. Here, all you need is to control your gun wisely and defeat all zombies that are trying to kill you anytime in the battle. However, zombies are not easy to destroy, so you need to shoot continuously until they fall to the ground. A big tip for you is that you should shoot into head of the zombies to knock them down in the shortest time.
Note that, after each level, the number of zombies will be increased dramatically, so you have to shoot accurately to avoid wasting ammunition in the game. At all costs, you must destroy the enemies before they reach your settlement. Use the points you earn to upgrade the modern weapons in the arsenal at friv games 10.
Be especially careful with dark matches, because you will be very difficult to kill enemies that hide behind dark areas. Don't think anymore! Discover it right now at friv games.
Explore more with some similar games such as ZombieCraft.io on Friv10play.net .Share them with your friends!
How to play?
You can use the mouse to aim and shoot, Q to swap weapons, space to rage mode, R to reload, F to switch firing mode, 1, 2, 3 to detonate remote bombs, M to mute, Q: quality, P to pause menu.
Rating: 4.8/5 (6 Total Ratings)
Free