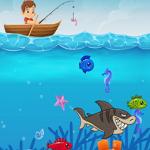 Fishing Frenzy
Fishing Frenzy is a cute fishing game for everyone, especially children. Fishing Frenzy is designed with eye-catching graphics, simple gameplay, and great music. Therefore, I bet that you will have to play it again at friv10. With Fishing Frenzy, all you need is to use your fishing rods wisely and catch lots of fish under the ocean.
However, you should be more careful with sea animals and even sharks that are trying to destroy your fishing rods. It is the wonderful time to discover Fishing Frenzy at friv10play.net now. Remember try similar games as Fishing Panda or Let's Go Fishing . Have fun!
Controls:
Click on the icons on the screen to catch the fish or check out Fishing Frenzy mobile.
Rating: 4/5 (3 Total Ratings)
Free