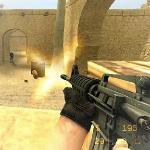 Combat Strike 2
So wonderful! Finally, Combat Strike 2 has returned to the expectations of thousands of players around the world at Friv 10 club. Following the success of the previous version, this game was born as an improvement and development of interesting features of the game. When playing this version, you will get more enjoyable experience than the previous version.
If you do not believe my words? Play Combat Strike 2 at Friv games 2018 and discover the special things. Set in an abandoned maze, you will engage in this battle shooting alone and your goal is to destroy all the other opponents around you. This task is extremely difficult when you do not have teammates and help. Moreover, you face a large number of enemies at the same time and location. Try other shooting games at http://friv10play.net/
So, your survival is extremely difficult. However, you do not need to worry too much because I believe that your shooting skills and intelligence can solve all dangerous situations in the game with Friv 10 free games. With innovative 3D imagery and fast motion effects, Combat Strike 2 Combat Strike 2 promises to bring many moments of relaxation and entertainment for all players.
Experience more with some other shooting games like Strike Force Heroes, Strike Force Heroes 2 and Strike Force Heroes 3 at Friv10play.net. Share them with your friends now!
Instructions: You can use WASD to move, the mouse to aim or shoot, 1-2 to choose gun, Shift - sprint, C -crouch, F - take gun, T - chat.
Rating: 4.5/5 (16 Total Ratings)
Free