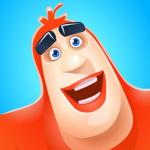 Yeti Sensation
Yeti Sensation game: This is an interesting 3D funny game of 2018 at Friv 10 club. In this game you need to control a funny man to avoid many obstacles and collect as many coins as you can. Run as fast as you can, avoid obstacles and collect all fruits. Much fun!
Do you like running and other sports with friends? Imagine that life is like a race and you need to finish it with Friv games. Play Yeti Sensation online game and discover why it's so much fun today. You need to run as far as possible, collect as many fruits as you can to buy and upgrade items in the game store. Try it now on http://friv10play.net/.
Don't forget to keep a clear mind and flexible handling when playing games Friv. Please share the game with your friends to play together if you are keen on it. We are so thankful to receive your comments. Discover more interesting game at Friv10play.net like Skate Hooligans!
Controls: Use the your mouse
Rating: 5/5 (1 Total Ratings)
Free