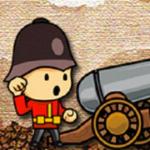 Cannons And Soldiers
Cannons and Soldiers online friv 2017 games for free! Play it and other flash friv 10 games for girls, boys, kids and grownups on friv10play
The war has never been so much fun! Use a canon to attack the enemies, but be careful: some of our
soldiers had been captured and hold as hostages. Shoot all the enemies and save your brothers in arms
Handy tips:

• Adjust the direction for more effective aiming;
• Choose the correct power for more effective shooting;
• Use plunging fire to strike the remote enemies;
• Strike bricks, decks and boxes to make them unstable and hit enemies;
• Helmets are good for ricochet;
• Enemies are green, our soldiers are red (don't hurt them!).
Don't hesitate anymore! Play more with ShellShock Live at friv10play.net , Have a great time!
Rating: 4.7/5 (3 Total Ratings)
Free