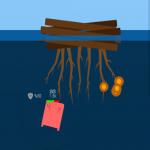 Deep IO
Deep.io is an extremely fun multiplayer IO game which is suitable for people of all ages on Friv games of 2017. In the game, you start up as a human and have to battle against other players from all over the world in order to evolve into the ocean's largest and strongest animal like a shark or a whale by eating smaller animals and avoiding being eaten by bigger ones.
Note that you can only eat other sea animals of different species. Dive deep into the sea, upgrade your character to get points and become the fear of the blue sea. Try other hot games of 2017 at Friv10play.net .Good luck!
Interestingly, Blash.io also is/are loved by thousands of the players on http://friv10play.net/ . Why don't you try to play?
Game Controls : Mouse
Rating: 2.7/5 (7 Total Ratings)
Free