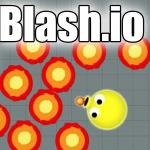 Blash.io
Play Blash IO for free online at Friv 10 for school 2017. Blash.io: Use mouse to move and aim. Hold W or Left mouse button to fire. Tap spacebar to dash and hold it to sprint. Press E to toggle autofire.
This speedy multiplayer game sends you into an arena filled with lethal blades and enemies. You can slay foes and pick up square pellets to boost your score. Consume smaller players, and stay away from mines! See more IO games on http://friv10play.net/io

Game Controls: Mouse = move / shoot, Spacebar = speed, E = auto fire.
Play Blash.io - The latest multi-player .io sensation, do you remember Agar.io
Rating: 5/5 (1 Total Ratings)
Free