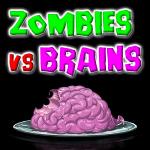 Zombies vs Brains
Zombies vs Brains is an extremely interesting action and skill game in which your mission is to annihilate a huge amount of blood-thirsty walking dead on Friv10play.net . Activate the bombs and create a chain reaction to blow up all those evil creatures. Collect as many coins as possible in order to unlock new useful tools that help increase the area of the explosion.
Gather all the gems that are used to buy power-ups or exchanged into coins. Do your best to pass all the levels to become the champion. Have a great time playing the game and share it with your friends! You want to play more games like Zombies vs. Brains, don't you? Check out Zombie Demolisher 4 Invasion in Texas
Controls: Use the mouse to play Zombies vs. Brains.
Rating: 5/5 (1 Total Ratings)
Free