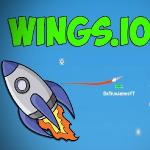 Wings.io
Wings.io is incredibly fun and addictive shooter game on Friv 10 games for school. You are put into a big fight in the air. How can you handle this dangerous situation? Enemies are everywhere. Just a little bit carelessness, you will die.
You have to grab the power-up items which are dropped from the sky. They can be weapons, health and so on. Remember that each special items have limited use. So, you must take full advantage of them to shoot your enemies.Play now at http://friv10play.net/
Fly around and try to survive at all costs. If you're interested in shooting games, please check out Wormax.io on Friv10play.net !
Instructions: Use the mouse to control your plane and press the spacebar or the left mouse button to shoot.
Rating: 3.8/5 (4 Total Ratings)
Free