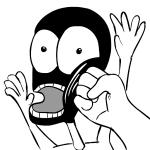 Whack The Terrorist
Whack The Terrorist game for free - A fun game online at Friv 10 club. You don't need to be a policeman to fight off terrorism. At least in the new game 'Whack The Terrorist' for free on Friv10play.net , in which you will encounter a masked terrorist in Berlin. Busy with his remote you should try to take him out.
Find the different interactive spots around that place to trigger actions to Whack The Terrorist. There are 12 funny ways to harm the creepy badass at Friv 10 funny games.
You can play Whack Your Boss 2 and Whack Your Ex.
Controls: Use the mouse
Rating: 5/5 (1 Total Ratings)
Free