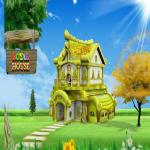 Valentine House Escape
Valentine House Escape at Friv for free is an interesting story about a boy who has no key to escape from the house. The story begins when a boy visits a friend's family in a remote countryside. One morning when the boy woke up, everyone was out and he was locked in the house. In particular, today is Valentine and the boy is having a date with his girlfriend. So, he had to get out of the house by any way.
The sad part is that you will not get any help from people or call the relief team. He needs your help in the game at Friv games of 2018 right away! This is a wonderful chance for you to show off your intelligence and observation. In order to escape from the house, you need to find specific clues and find the key that is hidden in the secret area. The clues will be hidden everywhere, so you need to explore all the rooms and search in every detail. You should pay attention to areas such as cupboards, pillows, blankets, flower vases, paintings, lamps, bathrooms, carpets or boxes on the floor with Friv 2018. They can contain many important clues to connect and find the key to help you escape.
An important suggestion for you is that you should pay attention to the smallest details that people often ignore because they may contain important information. Are you ready to challenge your skills? Besides, there are some related puzzle games, you can play such as Princess Outfits Test at http://friv10play.net/!
How to play?
Find the key by using your left mouse in the game.
Rating: 5/5 (1 Total Ratings)
Free