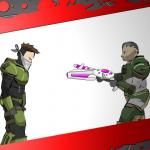 Unreal Flash 3
If you are a fan of shooting game, you may have experienced the popular game Unreal Tournament. Now, Friv for kids will give you another option inspired by this famous one named Unreal Flash 3. It's an amazing shooter game in which you have to shoot down all your enemies to save your life. You can play story mode with various levels or free mode with 4 options. In the story mode, after the tutorial, you will enter the real fight and you have to finish the current level to unlock the next one with Friv 10 games online.
In the story mode, you choose one among four options including deathmatch, capture the flag, instagib, and king of the hill. Each stage brings you to the different environment. You have to run, jump, collect weapons, kill your enemies and survive as long as you can. This Friv games offers a wide range of weapons for you to choose, such as the short gun, rocket launcher, pistol and more.
You can pick up a weapon by walking over it and during the battle, you can switch between your weapons. Welcome to the world of Unreal Flash 3. You definitely have a great time at here. Try other shooter games at Friv10play.net, such as Strike Force Heroes 2!
How to play: Use WASD to walk, duck and jump, mouse to aim and shoot, Q to quick switch to your last used weapon, mouse wheel or 0 - 9 to switch weapons, and Space + click to use secondary weapon.
Rating: 5/5 (1 Total Ratings)
Free