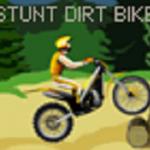 Stunt dirt bike
Stunt Dirt Bike,It's a free online racing game brought to you at friv 10 games. Guide the dirt biker through natural obstacles to beat each level!
The target of the game is to surmount all obstacles and barriers as fast as possible! You can control the dirt bike with the arrow keys and restart a level with 'R'. Do not crash the bike while you surmount the obstacles. Have fun with Stunt Dirt Bike games!
Some games also are every popular on friv10play such as Cross Sonic Race . Why don't you try to play? Enjoy!
Rating: 5/5 (1 Total Ratings)
Free