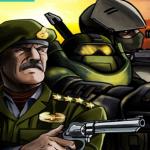 Strike Force Heroes 2
This action game is developed by Justin Goncalves. However, I think that we do need to pay a compliment to Michael Sleva who is also in charge of game design. This game has really the impressive and quality images. The gamers cannot take their eye off them in one second. The game's sound is wonderful too. By using the Killing Machine song as the theme song, the game developers make the game become more attractive to the gamers. It blows a hot air of this hero's war game at Friv 10 games.
In this game, you will become a hero who has a fight in the space area. Your main mission is to defeat all the attackers in a spaceship and regain control of the ship. So get ready and play the game now at http://friv10play.net/!
Tips, tricks, and hacks in Strike Force Heroes 2
The Engineer is great for medium range assaults. You can backup your save files in the save selection menu at Friv games. Armor will protect your soldier until it breaks. It will respawn after your soldier dies.
Freezing enemies heavily will lower their attack speed. If you don't be shooted within 3 seconds, your soldier automatically starts regenerating health. Higher level items are much more powerful than their lower level version.
All weapons are slightly different. Make sure not get the wrong one at Friv games of 2017. The General has an excellent supportive team. The shop resets new items after each match.
More information
If you are fond of this game and looking for more attractive games like this one, please refer to these list games at Friv10play.net . You can play Strike Force Heroes and Strike Force Heroes 3.
How to play
Use the arrow key/WASD keys to control the character. Use the mouse for aim and shoot the opponents.
Rating: 4/5 (1 Total Ratings)
Free