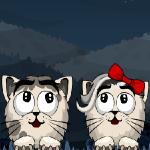 Stars from the Sky
Stars from the Sky is a challenging but cute and interesting online game which is played by many people around the world, especially children with Friv 10 School.
The game is set in a dark but adorable labyrinth where there are many stars that fall out of the sky. Your mission is to help a cute little cat collect those stars that he promises his girlfriend on http://friv10play.net/
Jump through from block to block to gather all stars in each level. Have fun and share this interesting game with your friends! Some games also are every popular on Friv10play.net such as Saving Little Alien . Why don't you try to play? Enjoy!
Game controls: Use the mouse to move the cat and press the Space bar to restart a level.
Rating: 0/5 (0 Total Ratings)
Free