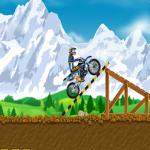 Solid Rider 2
Solid Rider 2 is a bike game of all ages on Friv 10 games .You need race through the rough terrain, cross large gaps and pull off cool tricks without falling off your hot machine. Much fun!
Controls: Arrows = Move, Z = Nitro, XCV = Stunts
Enjoy this great motorbike game Solid Rider 2 and games friv10 more with Hot Bikes on our site !
Rating: 5/5 (1 Total Ratings)
Free