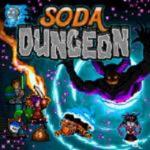 Soda Dungeon
Soda Dungeon is game online free in friv 10 game online,Go on a dreadful adventure full of evil monsters and drunk knights in shining armor. In this fun-addicting turn-based battle game, you have to hire fighters in a tavern and send them out to the dark dungeons to fight off lots of creepy creatures and earn tons of gold. In order to have a larger number and variety of candidates for your team, you have to invest your gold in stools, tables, drinks and much more stuff to have more people visiting the tavern.
How to play Soda Dungeon:
Manage your team of adventurers as you raid the local dungeon for treasure! Upgrade your tavern, purchase new sodas, and attract new party members. Gold, legendary items, and more await you! Have fun!
Controls: Mouse
If you like our "Soda Dungeon", please rate it and should play this similar game as Planet Adventure on friv10play ,try and feel now !.
Rating: 4/5 (1 Total Ratings)
Free