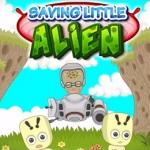 Saving Little Alien
Saving Little Alien is an insanely addicting game in which you have to protect a little alien against the bad guys who want to hurt him by drawing on Friv10play.net . At each lever, depending on the situation but you can draw something that is suitable to prevent bullets from firing at the little alien.
There are 25 levels in total for you to play. Remember that you have to complete the current level in order to move to the next levels. Besides, try you best to collect all of three stars in each level. Enjoy more interesting games such as Friv 10 kids . Much fun!
See more hottest Friv 10 games of month :
Instructions: Click and drag the mouse on the drawing area to draw.
Rating: 5/5 (1 Total Ratings)
Free