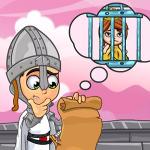 Ransom Valentine
A gloomy day in one kingdom, all the beautiful girls are kidnapped and trapped in the cage on Friv 10 school. The loving King needs a brave hero to save them. Can you become the King? Using you powerful cannon to destroy the cages and free every girl in all 21 levels.
Click the cannon to activate, set angle and speed, and send the bomb towards the cage. You can complete this mission, right? Let's relax with other related games like http://friv10play.net/ Enjoy!
Enjoy more with Cannons And Soldiers on Friv10play.net .I bet that you will laugh happily every time!
Instructions: Aim and shoot by using your left mouse.
Rating: 5/5 (1 Total Ratings)
Free