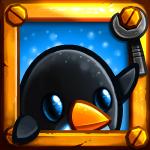 Penguineering
Penguineering game: This is a fun game online for school at Friv games. Ice is gradually melting. These little penguins have no idea where to go. Let's guide them to the igloo and avoid the polar bears in Penguineering!
Arctic, the land of ice is going to welcome various newborn penguins. However, the surviving journey of them is full of obstacles with Friv 3 online games. Ice is gradually melting, polar bears are waiting for them and so on. Besides, they keep going and going without paying attention to these dangers. Your mission is to guide them to the right direction in order to help them reach the igloo safely. Find other games online of 2018 at http://friv10play.net/
There are 30 stages in total available for you to play. Try your best to get all of three stars at each level. Check out more interesting games such as on Friv3play.net. Have fun!
Instructions: Play Penguineering with your mouse.
Rating: 0/5 (0 Total Ratings)
Free