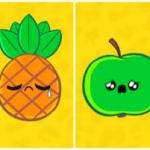 Pen Pineapple Apple Pen
Pen Pineapple Apple Pen is a funny game to play online at Friv 10. Your task in this game is to throw your pen to stab those cool looking fruits & follow the rhythm of the popular song Gangnam Style. So Funny! Don't miss or you will lose. Good Luck!
♥ Manual:
Tap on screen on mobile phone or use mouse to play this game.
► You also should try: Connect It Game
Rating: 5/5 (2 Total Ratings)
Free