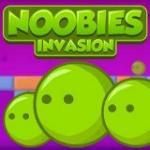 Noobies Invasion
Noobies Invasion is a quite simple game but it is difficult to win if you don't have quick actions and fighting strategies with game Friv 10 Online . Your mission is to make gaps along the path, create obstacles or release the defenders (red balls) so that the invaders cannot escape the screen.
There are 24 levels you need to pass and the number of invaders will be more and more crowded at higher levels. Are you ready to fight against these invaders? Start with games Friv 10!
Especially, you may regret if you don't try to play Zombie Demolisher 4 Invasion in Texas on Friv10play.net .Many wonderful things are waiting for you!
Game controls: You have to use the mouse to remove yellow blocks and interact objects such as red blocks, spikes so that you can prevent or destroy the invaders.


Rating: 0/5 (0 Total Ratings)
Free