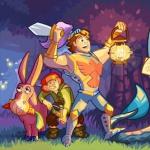 Need a Hero
Need a Hero game: This is a fun game for all ages at Friv 10 free games. We're looking for a brave man who can solve head-scratching puzzles to save the mice from monsters! Are you with me? Join Need a Hero now! Good luck!
Need a Hero is a match – 3 puzzle game for children. In this game, Bob, the mouse is the only one left because his lovely friends were captured by the evil genius, Dr. Badd Cat. By solving puzzles, you can help Bob save his friends with Friv 10 club games. It will be numerous challenges in different settings that you have to apply the best of your solving and logical thinking skills.
Remember to plan your moves reasonably, find different objects to block the enemy. Let's utilize any opportunities to set the mice free. Don't hesitate for any second, get started and become a superhero! Check it out and share with your friends. Much fun on http://friv10play.net/!
How about the game ? Interestingly, Running Fred Lite also is/are loved by thousands of the players on Friv10play.net .Why don't you try to play?
How to use: Use the keyboard arrow keys to move

Rating: 5/5 (1 Total Ratings)
Free