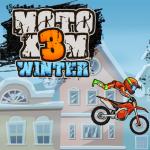 Moto X3M 4: Winter
You are ready for the new challenge at Friv 10 club with one of the world's best motorcycling games called Moto X3M 4: Winter. With this special option in driving games, you have the opportunity to choose and complete the race with your driving skills. You will be surprised with the winter scene in this motorcycle driving game.
Next, the player will face different levels. You must overcome the obstacles and balance your bike so that you do not overturn and lose. When playing Moto X3M 4: Winter at Friv 2018, players can start the game at the nearest fall location.
Therefore, you will have more experience to complete the level before starting a new level. We also have a lot of other motorbike games for players to explore the website. Friv games always updates the latest motorbike games. You can start driving your motorcycle safely along the way. Learn and explore the different paths of the car and balance after each acrobatics. Share this game with your friends and become a top driving expert in driving games at http://friv10play.net/.
We also suggest other exciting adventure driving games for players to explore such as Moto X3M 2 and Moto X3M 3 on Friv10play.net. Start exploring the driving skills with 3 stars and unlock new riders on your special game. Are you ready for your favorite games?
Controls: Arrow keys to drive or balance, Spacebar to respawn at last checkpoint.
Rating: 3.3/5 (3 Total Ratings)
Free