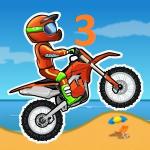 Moto X3M 3
Great! Friv Moto X3M 3 is really back with the expectations of thousands of people around the world at friv 10 online games. Here, you will have the chance to show off your racing skills and put your name on the Leaderboard of Moto X3M 3. What are you waiting for? Everything is available for you at friv games 10.
In this exciting racing game, your biggest mission is to drive your motorcycle wisely and pass through all challenges on the race track. Pay attention to the huge wheels on the road because they will destroy your motorcycle immediately. To overcome these obstacles, you only need to use arrow keys to drive your motorcycle in any direction you like. It's is a the top racing game at Friv 10 school games !
Be more careful with every move because if you can't pass through an obstacle, you will lose your life in the Friv Moto X3M. Especially, another important mission is that try your best to keep the balance of your motorcycle and complete each level in the shortest time. With cool graphics and lively sound, I believe that this game won't make you feel disappear in life. It sounds very interesting, right? Play online and download for free at friv 10 games now.
If you like our " Friv Moto X3M3 " , Rate it and don't forget to explore more with some related games such as Moto X3M and Moto X3M 2 at Friv10play.net . Share them with your friends!
How to play?
Use arrow keys to drive your motorcycle on the race track.
Rating: 4.5/5 (19 Total Ratings)
Free