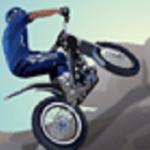 Moto Trial Fest 2
Moto Trial Fest 2, this is an addictive dirt bike on friv 10 games where you drive your motobike through rough terrain. Drive your bike, keep the balance and try to get to the finish line as fast as possible. Show your driving skills in the desert, at the mountains and in the city!
In this dirt bike cross country race, don't limit yourself to just dirt trails! Take to construction sites, swamps, and cityscapes and use those strong tread tires to climb up anything. If it's got a ramp, then take it up to the top and leap from the highest point for a fast time, high score, and more levels! If climbing around through locations on strong dirt bikes doesn't pique your interest, then check out the hilarious ragdoll physics when you crash!
There are some similar games on friv10play such as Moto X3M or Rush Hour Motocross . What are you waiting for? Click now!
Rating: 4.3/5 (3 Total Ratings)
Free