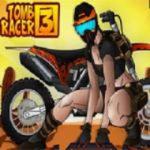 Moto Tomb Racer 3
Moto Tomb Racer 3, It is most played online flash game have fun on friv 10 games of 2017, play now Moto Tomb Racer 3 and all other versions here. Take on the role of Lara Croft and race on your motorbike through a dangerous chamber tomb which is not only filled with treasures. With Moto Tomb Racer 3, new tombs and dungeons await. Explore the dark labyrinths while avoiding dangerous traps and pick up treasures.
In Moto Tomb Racer 3 you must pass several obstacles including deadly traps while you try to collect all treasures along the way. Have fun!
Controls: Arrows / WASD = Drive, Space = Brake, Q / F = Change Direction
Don't forget to play free more with Moto X3M 2 & Moto Tomb Racer on friv10play.net , I bet that you will be addicted at first sight.
Rating: 3.5/5 (2 Total Ratings)
Free