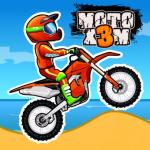 Moto X3M
Moto X3M is an exciting racing game the best friv10 games. Grab a bike, strap on your helmet, surmount obstacles and beat the time on amazing off-road circuits. Do flips in air to decrease your race time. Enjoy Moto X3M!
In Moto X3M game online, you also have to tune the speed of the motorcycle and also find a perfect balance, trying not to kill the driver, otherwise the game will be over.You can visit site http://friv10play.net/ and try play Now !
Do you like racing game ? Try playing friv games of 2017 now !
FEATURES;
-75 challenging stunning levels
-Unlockable super cool Bikes
-Sick stunts and insane tricks as you flip and wheelie through levels
-More high octane levels coming soon
-Timed Levels
-Checkpoints
-User Selected Control scheme
A similar game also is very famous in this series as Moto X3M 3 or Freeway Fury 2 .Check out it now on friv10play.net
Game Controls : Press the SPACE button if you died to start over from the last checkpoint or press 'R' to start the stage again.
Rating: 3.5/5 (4 Total Ratings)
Free