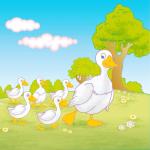 Mommy Ducky
Mommy Ducky game: This is fun game for kids at Friv 10 free games. These ducklings are really giddy. They like to explore everywhere. So mommy ducky always finds them. Let's help her in Mommy Ducky. Much fun with friends!
Mommy Ducky is really fun game with Friv 10 online. And it will give you hours of fun. The ducklings are really curious and like to explore everything. This time, they go to the swimming pool. Mommy duck tries so hard to call them home. Let's her to collect them all. Watch out! This pool is full of dangers. Try it now at http://friv10play.net/
You must navigate mommy duck as well as her ducklings to avoid crocodiles, sharks, and other obstacles, then guide them to the ladder. Are you able to complete all of 24 levels without hurting any duck? Are you ready to play more with DuckLife 4 on Friv10play.net? Get more and more smiles!
How to play: Use your mouse to navigate the mommy duck.
Rating: 0/5 (0 Total Ratings)
Free